4 Motivational Quotes to Encourage You to Ditch the 9-5 Tradition and be Truly Inspired
Jun 22, 2022
Why write a blog post about quotes? Why not!
I've been using Instagram (IG)… for business. For my blog. And although it doesn't send a million clicks here, I truly believe in the platform for branding the Free At 50 concept. It's a place to share inspiration to ditch the 9-5 and the resources I find to make it happen. Honestly, some of my most popular posts on IG are motivational quotes, ones that naturally are "ditching quotes." I share the quotation in a beautifully branded graphic then share my message to followers, readers, and others wanting more to life than the 9-5 tradition, in the caption.
So here goes. I'm putting some of my favorites I've shared on IG into a post with what I expect will be inspirational and encouraging for anyone on the journey out of the 9-5 tradition and into semi-retirement, entrepreneurship, or both!
This set of ditching your 9-5 job quotes is all about finding your why and making (or sticking to!) the decision.
Note: As a blogger, I use affiliate links sometimes! I may receive commission from purchases on links I share, but it does not change your price.
RELATED: Grab a journal focused on finding your why.
Motivational quote number 1 is from Shaq, and it is true inspiration to ditch the 9-5.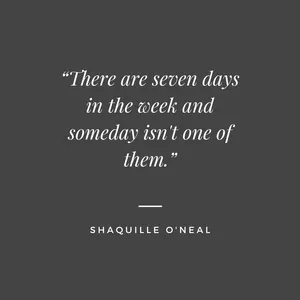 If you're a little surprised I'm turning to an athlete for a quote about leaving 9-5, don't be.
It's true: athletes do not live life based on the 9-5 tradition, and they are some of the most driven individuals in existence. That actually is all very important stuff.
But that is not why this quote means so much to me.
My blog is titled "Free At 50" because my Covid layoff happened at age 49 and at that moment in time, I had the realization that I have less years in front of me (most likely!) than behind me. Life seems shorter all of a sudden.
Since I've been on this path as a blogger, I am seeing even more people leave this earth too soon.
I had the gut punch of someone my age pass away unexpectedly in 2020 due to a heart attack. We started our careers together as interns during college. To follow that, last year, a close friend suffered serious injuries in a car accident and has been on a slow road to recovery, one which makes this quote hit home for me.
I wanted the professional freedom over a life working for others. One where I can own my time, but I didn't do it right away. I waited until my layoff.
The reality: I was gambling that "someday" would come.
Do not keep saying "someday will be when" you ditch the 9-5 tradition and build your dream life.
If you are done with the tradition of 9-5, whether it's because you are miserable or even if you are just content and liking the steady paycheck but asking yourself if there is more to life, this quote is my message to you: go for it.
You do not know how much longer you (or your loved ones) have so why settle for being content.
RELATED: Read my post about fulfillment over "being content" here.
Motivational quote number 2 is from Judy Garland: just do you.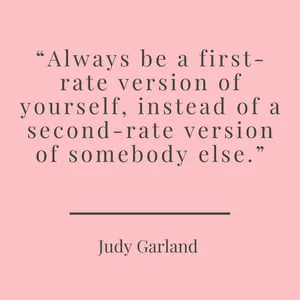 To me, this is the just do you quote.
I wrote a whole post on why corporate titles don't matter and this breaks down why: why would you strive to be something you're not?
We are all unique.
I am here to tell you: that uniqueness and the skills you have are your ticket to fulfillment and life after ditching the 9-5. Breaking the tradition of 9-5 is reliant on you. It's reliant on you taking your skills, passions, and inspiration to create something that will bring you the lifestyle you desire.
For me:
Semi-retirement.
Writing.
Encouraging others.
RELATED: My take on corporate titles. Because you can have an impact without a title!
Motivational quote number 3 from Neil Armstrong is common sense about living your best life.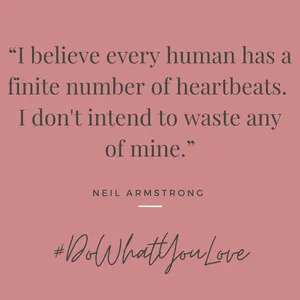 With the limited amount of time we have to be here, why would we waste one single heartbeat?
Have you ever sat on a conference call or been in a meeting or worked on a project that made your mind wander into the "I will never get this hour back" zone?
Yes, I thought so!
It's true. You won't ever get those hours back. I'm not trying to stress you out, but if you're on the edge of the decision to leave your J.O.B. and need some inspiration to ditch the 9-5, let Neil's words propel you forward.
This guy went to the moon y'all! What would you rather be doing? Where do you want to go? How about spending time on getting you THERE?
RELATED: Grab my inspiration to ditch the 9-5 go-to of a book, The 4-Hour Workweek, here.
Motivational quote number 4 is from a certified life coach and author: Brittany Burgunder.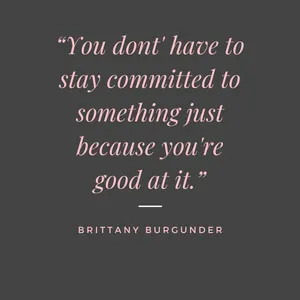 I'm closing with this for a reason.
At this point, you might be thinking: but I am GOOD at what I do, and it gives me a pretty damn good paycheck. Kudos to you!
But if you are not fulfilled, happy, or EXCITED about your days, and simply content, or at worst miserable, Brittany with her words and me as the author of this post are giving you permission to step away.
Ditch the tradition of "9-5" and create the life you want.
RELATED: Start a vision board! Click here to choose a kit you love.
Call to action: take action.
Start by downloading my 6-Step Checklist here if you haven't already. If have downloaded it, what step are you on? What is the next action you're taking?
Follow me on IG- and continue to be motivated to take your next step with the quotes I share! Click here.
And invest in something. Getting started may feel overwhelming, but here are some tips on starting get the tools you'll need. Check out this video chat I had with my friend Blaire Brown, Brand Strategist and founder of Visionary Advantages.
Did you enjoy this article? Tip me! Buy me a coffee: