Home Office Organization: An Expert Shares the Biggest Secrets to Get Your Office in Order This Year!
Dec 27, 2022
Meet Chantal: an interior designer excited to share secrets for home office organization.
Chantal G. Looyen is a South African interior designer with a love of words. She ditched the 9-5 to blog about home improvement and help contractor businesses with online marketing content. Based in Cape Town, Chantal has 14 years of residential interior design experience and is into Holistic Interior Design. It makes total sense she wanted to share her secrets about home office organization in her guest post for this blog!
And it's a fantastic idea for YOU~ if you want to kick off 2023 focused on productivity and success!
In follow up to my post sharing 5 tips for being organized in business, have a read of Chantal's post below on the topic of being organized in your home office! Grab your coffee and take notes! (use the links to open new windows and get what you need!)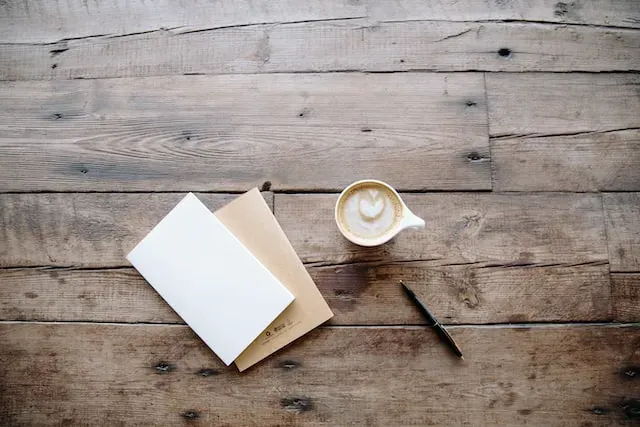 As this is written, we are ending another year.
A time for enjoying vacation and festive season activities. You likely left your desk to spend time with family and friends… but wait! Is your home office ready for the New Year?
There's something you HAVE to do when January hits (or any time of year you find and read this post)! You need to get your home office ready for success. When your home office is updated, you'll be much more enthusiastic about returning to it.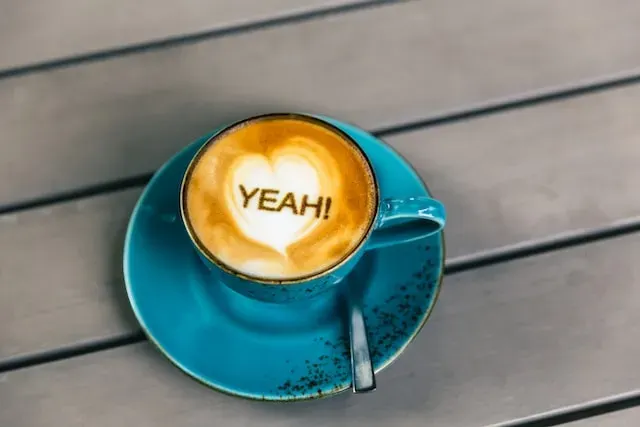 Review your current home office situation for success with home office organization.
Which parts need freshening up?
· Is it cluttered?
· Have you got adequate storage?
· Does the space motivate you?
· Do you need an ergonomic chair?
· Would a standing desk be a better option for you?
· Is your office calming or unsettling?
· Is it easy for you to focus on work in your home office? If not, why?
· Does your home office have a dual function? Does it have to?
· Do you need any new tools?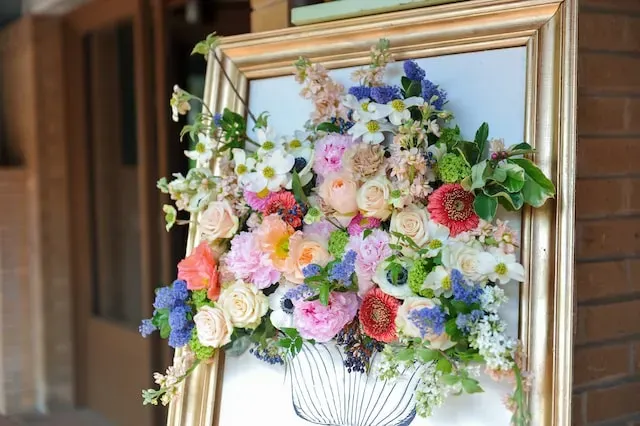 Home office organization: Chantal's 6 secrets, step-by-step.
1. Declutter For A Clean Slate
The first thing you need to do is get rid of the clutter. You can't start off a new year by returning to a messy office.
File away important papers, and recycle the excess.
Thin your notebook herd. You know you're going to buy some new ones anyway.
Test your stationery and tools. Throw out anything that doesn't work.
Remove all the random stuff in your home office area that has nothing to do with your work.
Get all that excess out of the space. Decluttering your home office ahead of the new year may be the best thing you do. And bonus, it's free.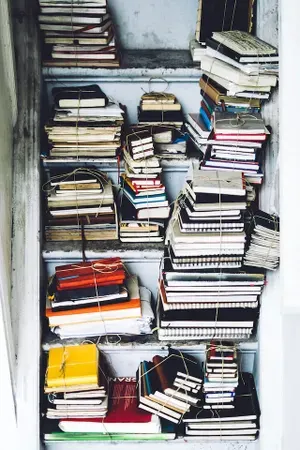 Note: As a blogger, Daphne uses affiliate links sometimes! She may receive commission from purchases on links she shares, but it does not change your price.
2. Storage System Set-up
Everything needs its own place. Set up storage systems to support how your space needs to function in the future. Here are some functional storage solutions for your home office:
3. Do A Mini Home Office Makeover
Give your home office a bit of a design makeover. There are a lot of ways to do a surface makeover without breaking your credit card.
Painting walls is a cost-effective way to change a space.
Wallpaper one wall. There are many affordable peel-and-stick options available on the market. One feature wall can change the aesthetic of the entire room.
Adding a rug will reduce echoes and give you a soft texture underfoot.
Basic blinds on your window? Curtains elevate a room and add sound dampening as well.
One new key piece of furniture may be all you need to make your home office more comfortable.
Is your desk in the optimal power position? Place your desk facing the doorway for great Feng Shui.
Shop your home. Can you snag anything from other areas of your home to make your home office comfier?
4. Big Budget Home Office Goals
If you can afford it, why not invest in your home office with a full makeover?
Consider especially the wall and floor finishes, electrical needs, and furnishings.
For a supportive space, remember some elements of holistic interior design:
LIGHTING: Stimulate cognitive functioning with access to natural sunlight. Add adequate task lighting if you work in the evening.
COLOR: Select colors that enhance inspiration, focus and creativity.
TEXTURE: Along with color, textiles and surface finishes create the 'feel' of a room. Whether physical or visual, choose textures that support a comfortable space.
BIOPHILIA: Indoor plants or plant imagery bring the nurturing aspect of nature in.
SOUND: I recommend listening to something instrumental if you're writing or editing. If you're doing something visual, it's great to listen to podcasts or your favourite artists. Or if you live in natural surroundings, open a window, and listen to the birds.
AROMA: Fresh air is key to avoiding brain fog but adding certain scents to the room will enhance the vibe.
TEMPERATURE: Do you get cold sitting at a desk? Does the humidity in your area drag down your energy levels? Balance the daily temperature in your home office to keep you productive. Do you need air conditioning?
If you plan to get a contractor in to do renovation work, check project timing. Can they get everything done in time for you to start working in your office again? Contractors get super busy at the end of the year.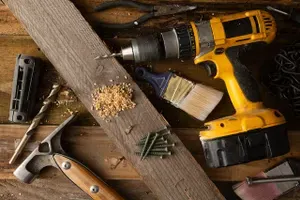 5. Accessorize For A Fresh New Year
There are a few ways to accessorize your home office.
Display your wins. If you've got qualification or award certificates hang them up. If you make your very own products, showcase them to keep you motivated. Brag a bit. Your accomplishments will inspire you to do even more great things.
Bring color and texture in via your office supplies and décor pieces. Don't rely on the major finishes in the room to do all the design work.
Display a few things you love to keep you inspired. Family photos or souvenirs from trips remind you what your efforts are for. Shop your own home for items to brighten your workday.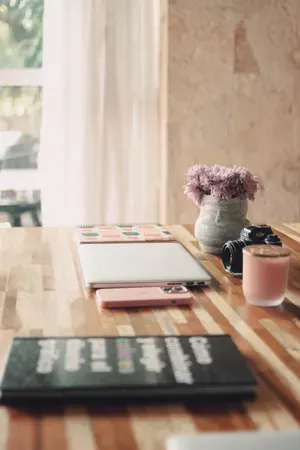 Spoil yourself with a few smaller items that will bring new energy to the space:
· A beautiful planner for the new year
· A wall-mounted acrylic monthly planner
· A desktop file organizer to keep notebooks and files at hand
· A sleek desk lamp to illuminate any close work
· Bluetooth speaker for productive playlists
· Pencil cups for your best pens and markers
· New notebooks for brain dumps
· Indoor plants or a vase for fresh flowers – or both
· A diffuser and essential oils
· Pretty scented candles for ambience
· A water jug and drinking glass set - stay hydrated
· A clock or Pomodoro timer to keep you on task
· Crystals for good energy flow
6. Review Your Devices and Tools
Lagging laptop? Does it need an upgrade, or should you delete some files? Declutter your devices often.
Take the opportunity to upgrade your physical and online tools. It's a good time to find out if there are any that can serve you better.
For more on setting up a home office, read this post over on my website.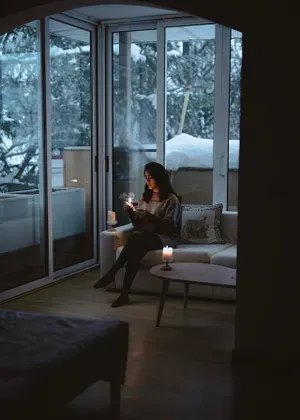 Grab on to the hopeful feeling of New Year's Eve and infuse it into your home office setup.
Set yourself up for a successful year.
What does your home office need that will help you manifest a great year?
Reach Chantal: